Interactive Visualization
Interactive visualizations are custom designed applications which present or promote a product or service in an interactive way. This is usually, but not necessarily, done with a real-time 3d viewer and a control interface which lets users interact with it. On top of that, features and animations may be designed and implemented to extend the application. Informational material like .pdf files, videos, images, etc. will sometimes also be added to the application.
There are many different uses for interactive visualizations:
Product configurators can be used to showcase all the different variations of many different products in one application, while also allowing the user to rotate around the object, or to zoom closer to look at the details. They are usually suited best either for websites as WebGL app, or on a tablet for face to face presentations with a client. We can also use Augmented Reality technology, to not only allow you to configure your product, but also to then place it in the real environment, looking through the device camera.
Interactive informational applications provide information to users, by letting them interact with the application on their own. They are usually best suited for either public places or websites as WebGL app. Example applications can be to let your potential customers explore your products or services on a big touch screen at an exposition or store, to provide educational information at a museum, or help visitors with navigation by using an interactive map at a mall. Those kinds of apps should be low on textual content and focus more on visuals and animation, while also providing a user friendly and easy to understand interface.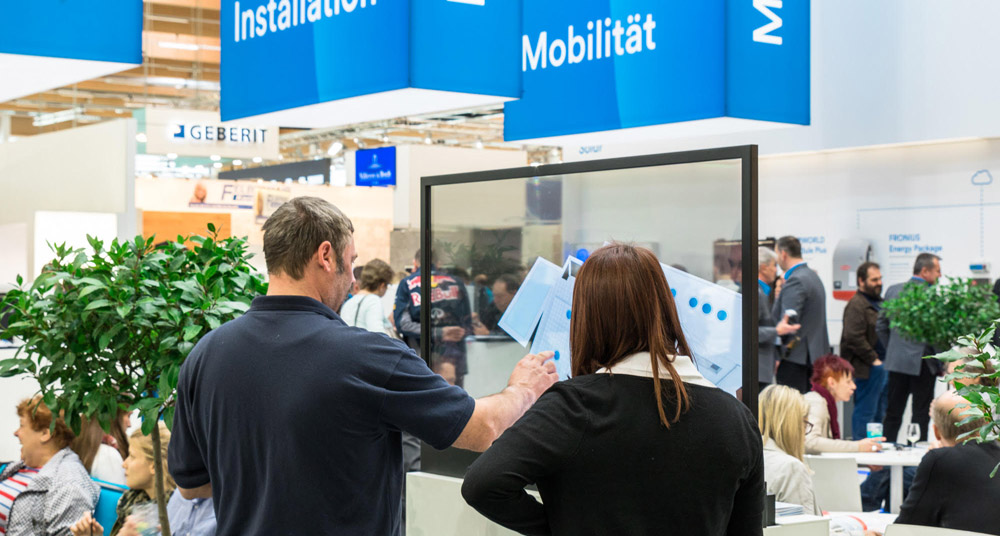 Interactive informational app on  a transparent touch screen, at the energy saving expo in Wels, Austria. 
Sales tools complement sales presentations, regardless of whether you're at a meeting or on the move. They contain all the relevant information, which would traditionally be printed on brochures, but in a much more exciting and dynamic way. Usually they also include some attention drawing special feature like a real-time visualization of a 3d model or an augmented reality experience, both enhanced by nice and clear animations. For mobility reasons, they are best suited for tablets, but can also be realized on a big touch screen for example in a conference room.
Informational display at expo
Large (transparent) touch screen
Product highlight at public location
Touch screen / augmented reality app on tablet
Tablet for staff, WebGL for end user
Sales tool used by salesperson or director
Feel free to browse through our featured projects below. If you need further information, a pricing quote, or want to discuss ideas for interactive visualizations projects please complete the form below, or write us at office@vr-interactive.at.